Culinary Institute



Food and city have always been two indispensable subjects in human civilization. In her book Hunger City, British architect and scholar Carolyn Steel highlighted the influential role of food in the shaping of cities throughout history. Before the advent of industrialization, our settlement pattern bore close correlation to the development of agriculture. Today, cities with dense population fed on food that was mass-produced and transported across long distances. This has increasingly distanced modern citizens from the process of food, namely how it is grown, processed, sold, cooked, and disposed of.

The city of Portland, Oregon has earned its fame through its food carts, restaurants, and scenes of novel eateries. Despite its location in the fertile Willamette Valley, only 15% of its current food consumption come from sources within a-hundred-mile radius while the remaining 85% comes from mass production. While locally grown food struggled to compete with the low price of mass-produced food, the city's growing population puts yet another strain on its local farmland.

Situated at the end of the North Park Block, the Portland Culinary Institute focuses on the education of regional cuisine. This project continues to support Portland's sustainable food movement through experimentation of integrating micro-agriculture with architecture and using food as a powerful design tool to educate both the culinary students and the public.



Program: culinary institute + restaurant
Location: Portland, OR, USA
Role: site analysis, schematic design, modeling, visualization
Date: 2013 (redesigned in 2016)

Portland Culinary Institute viewed from corner of Glisan Ave and Park Ave
City / Site Diagrams

Culinary Institute Building Program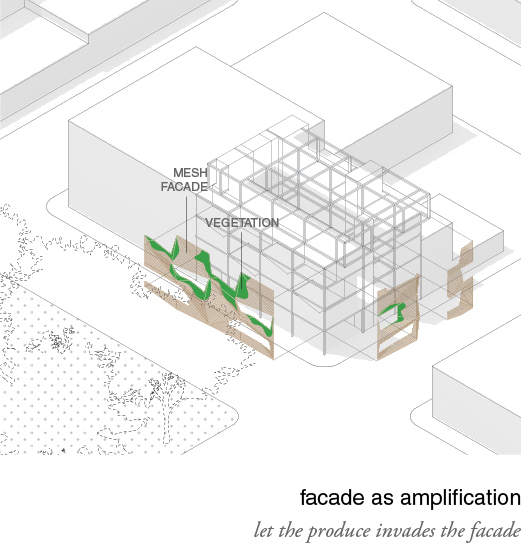 Public/ Culinary School Interface

Sections

Floor Plans

At the market, the public have access to local produce and culinary lectures taught in the high tech theatre.

Atrium of the Culinary Institute
A glazed elevator takes the public straight to the green house restaurant, meanwhile providing a glimse of food production behind the scene.
Each teaching kitchen has direct access to a produce terrace where local produce can be grown.
The green house restaurant provides a unique juxtapostion between the production and the consumption of food.
An architectural bay showing structural and facade systems

Elevation studies along Park Ave and Glisan Ave