Culinary Institute



Sited at the end of Portland's North Park Block, the Culinary Institute focuses on the education and promotion of regional cuisine. The proposed project supports Portland's sustainable food movement through the integration of micro agriculture and architecture. The building programs were purposely organized to form a public-private interface, allowing for visual intermingling between the public and the culinary institute. Shoppers at the ground floor produce market can peer into talks at the teaching theatre. Restaurant goers riding the glazed elevator glimpse into the teaching kitchens and produce terraces, before finally stepping into the Greenhouse restaurant on the top floor. Here, the production of food is as educational to the public as it is to culinary students.



Program: culinary institute + restaurant
Location: Portland, OR, USA
Role: site analysis, schematic design, modeling, visualization
Date: 2013 (redesigned in 2016)

The culinary institute viewed from corner of Glisan Ave and Park Ave
City / Site Diagrams

Culinary Institute Building Program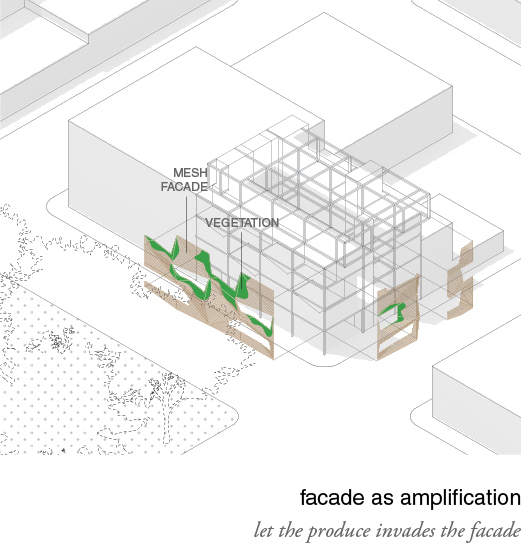 Building Design Strategies
Public / Culinary School Interface

Building Sections

Floor Plans

At the market, the public shops for local produce and joins talks in the teaching theatre.

The atrium of the culinary institute creates a vertical spatial continuity.
Restaurant goers riding the glazed elevator glimpse into the teaching kitchens and produce terraces.
Each teaching kitchen has direct access to a produce terrace designed for micro agriculture.
The greenhouse restaurant uniquely juxtaposes the production and consumption of food.
An architectural bay showing structural and facade systems

Elevation studies along Park Ave (left) and Glisan Ave (right)