Marking the Forest program is a ten-day design-build program hosted by the Architectural Association. Situated in Bauman Tree Farm, Eugene Oregon, the program seeks to engage students in the process from forest to architecture.
This year's project, "The Amplifier" explores ways to enhance awareness of the forest ecosystem. Located between a meadow and a forest, the design of the structure aims to mark and amplify the otherwise ambiguous transition between the two ecosystem. Dimensional 2x4 lumber were used to construct the primary structure, meanwhile, thin purlins were orderly inserted in between gaps on the wall. They gradually converge towards the top of the structure, forming an abstracted archway that celebrates the entry of the forest. The structure is permanently built as an educational pavilion that engages middle school students from the local area to study forestry.
Location:
Bauman Tree Farm, Eugene, Oregon, USA
Program:
Design + Build pavilion
Date:
2013
Press:
Archdaily
In collaboration with Lindsey Reaves from Bauman Tree Farm,
and cohorts and instructors of Architecture Association Summer Visiting School (Eugene)
The Amplifyer marks the transition between the forest and the meadow
design charrette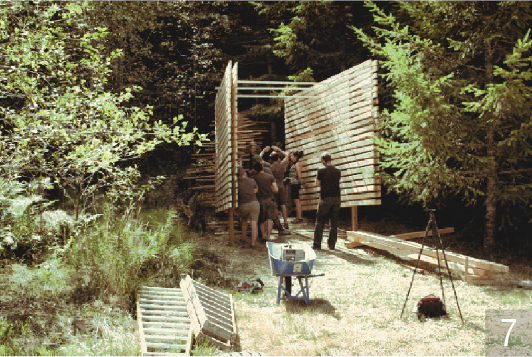 From site selection to design, mocking up, purchasing materials,
construction, the entire pavilion was design and built in 10 days.

Image Credit: Petar Lliev




The Amplifier heightens visitor's curiosity through its zigzag form, amplifies the sound of their footsteps through the gravel paving, and engages them through the tactility of the purlin sticks.
.
The Amplifier in the snow
Image Credit: Lindsey Reaves